It sounds like you need to practise a little more self-care sometimes - we would suggest using our CBD oil or capsules, depending on your preference, as well as our Body & Soul hemp tea, which contains lemongrass, rosehip, echinacea and sea buckthorn.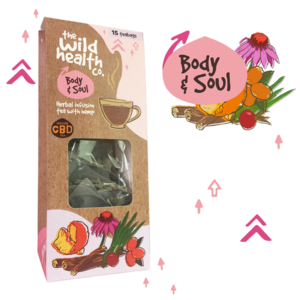 Body & Soul CBD Tea
£11.00
Our Body & Soul CBD tea combines organic and GMO free ingredients that are kind to the body. As well as our phytocannabinoid-rich hemp, the Body & Soul CBD tea includes lemongrass, rosehip, sea buckthorn, orange peel, echinacea, and liquorice, to support the immune system and protect your cells from damage.
For the best results, steep a Body & Soul CBD tea bag in freshly boiled water for 5 minutes. Feel free to add honey or agave nectar as a sweet addition to your cuppa.
Each box includes 15 plastic-free tea bags made from soilon – a plant-based material. In fact, they can be reused for 2 good sized mugs of tea without sacrificing on quality. All of our CBD tea products are GMO, pesticide, and THC free.
Get three for two on all Wild Health Co teas!