You really are living your best life and taking a proper amount of time to nourish your body and mind! We think you would enjoy our antioxidant-rich and jasmine infused Trim & Chill Green Sencha & hemp tea.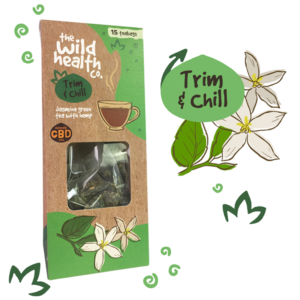 Trim & Chill CBD Tea
£11.00
Our Trim and Chill CBD tea is a deliciously fresh blend of green sencha tea and our phytocannabinoid-rich hemp, with some jasmine for extra flavour. Trim and Chill CBD tea is great at any time of the day and it is high in antioxidants, supporting a healthy body.
For the best results, steep one of our Trim and Chill CBD tea bags in freshly boiled water for 5 minutes. You can also add honey or agave nectar, if you prefer something a little sweeter.
Each box includes 15 plastic-free tea bags made from Soilon – a plant-based material. In fact, they can be reused for 2 good sized mugs of tea without sacrificing on quality. All of our CBD Tea products are GMO, pesticide, and THC free.
Get three for two on all Wild Health Co teas!